The (somewhat) new and definitely last MMAX2 Annotation Tool Home Page (last modified Sept. 8th, 2017)
Don't worry: MMAX2 is still alive and active! See what Google finds for "mmax2 annotation" in the last 365 days!
However, after quite some time I finally realized that the "new, improved and brushed-up version", which has been advertised under this URL for several years (original page is still available here) will not happen. All I managed was this fancy splash screen.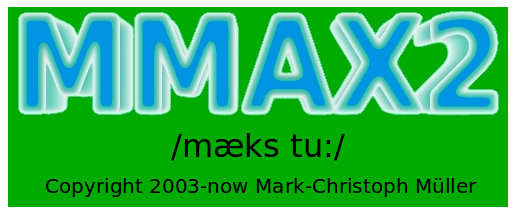 But that is by no means bad. It just shows that 1) the tool, as it has existed for more than ten years now, is sufficiently solid, robust, and versatile, and that 2) I moved on to other things.
That said, the following remains valid:
If you are using MMAX2 in your work, please cite the following article:
Christoph Müller, Michael Strube (2006): Multi-Level Annotation of Linguistic Data with MMAX2. In: Sabine Braun, Kurt Kohn, Joybrato Mukherjee (Eds.): Corpus Technology and Language Pedagogy. New Resources, New Tools, New Methods. Frankfurt: Peter Lang, pp. 197-214. (English Corpus Linguistics, Vol.3 ). (PDF) (BibTex) Click here to download the current open-source release of MMAX2. The download links to the SourceForge site to update the download stats there. My own, official MMAX2 documentation comprises the Quick Start Guide, the Annotation Scheme Guide, the Style Sheet Guide, and the Query Language Manual. Note: The Query Language is a bit arcane, try to use something more standard, XML-based, if possible... The MMAX2 page on SourceForge (with download stats etc.) can still be reached here. Feel free to contact me at 'contact at mmax2 dot net' if you have any questions or comments!